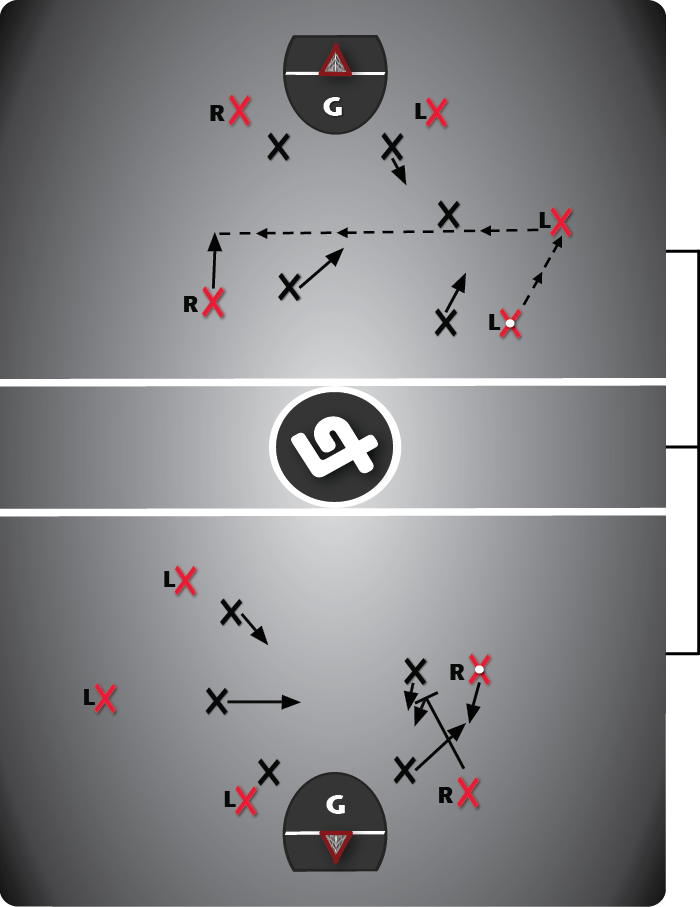 Helping Man-To-Man Defense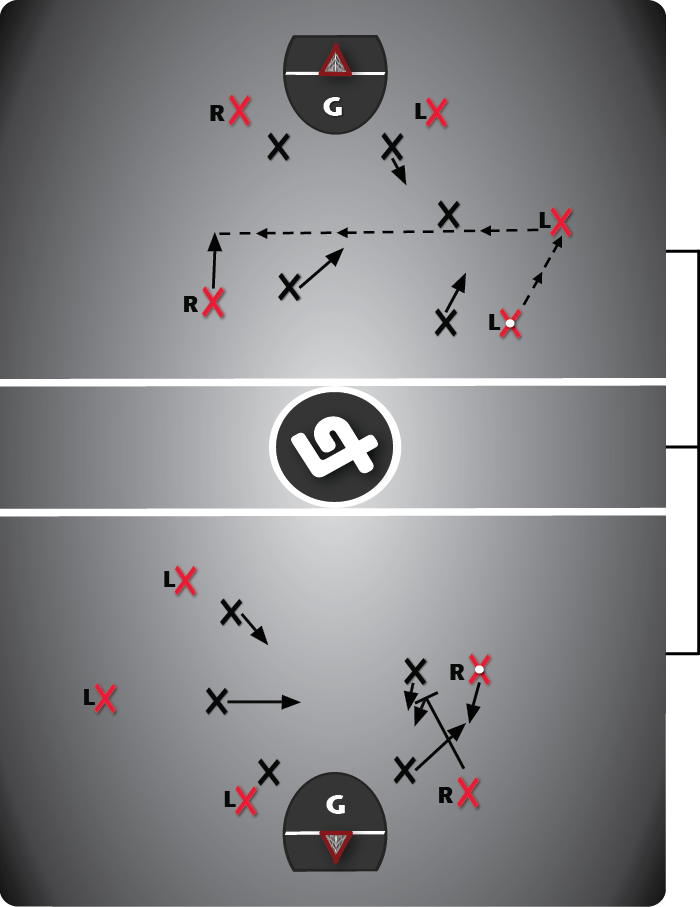 BEGINNER DEFENSIVE SYSTEM
This defense has been tried, tested and true, and is the staple defense used most often by intermediate calibre coaches/players through to advanced. 
As a

team rule,

beginners are usually best to just

"stay"

on their check wherever they go, until

"switching"

concepts and defensive positioning are better understood.  Whereas for more experienced players "automatic switching" is the rule, unless communicated otherwise (See Bottom Diagram).  At any given point during a defensive shift players might potentially find themselves defending at any one of the standard offensive positions (crease, shooter, point), depending on where their check goes and whether or not they are able to "switch."

The key player in the helping man-to-man defense is the off-ball high defender on the weak-side, and the off-ball "middle defender" on the strong-side (sometimes known as the "hot" defender). Whoever is in either of these positions at any given time should sag off of their check and into the middle more than any other player on the defense (adjacent defenders should also "show help" where possible).
Collectively off-ball defenders should sag, "stay tight" and be prepared to help any teammate that gets beat toward the net (adjacent & off-ball), leaving their check entirely and "sliding" over if required. There is no need to chase one's check out by the boards as ultimately they will need to come to the middle and get to the net to be a scoring threat.
The ultimate goal of any defense is not to get scored on as a team, "I had my check," is simply not good enough. In essence, individual defenders are responsible for 1.5 players at any given time; your own check, as well as half of one of your teammates (if they need "help"). Goalies are responsible for stopping: shots from outside of the prime scoring area, shots from players on their wrong floor side, seam shots and shots from the mid-board soft-spot.
Coaches also need to develop a simple communication system for players, such as: calling out the direction of picks (left, right or back-picks), communicating where/who is help, and calling out ones position in "the wall" (high, middle or low).